I held on to my faith which was bigger than my fears!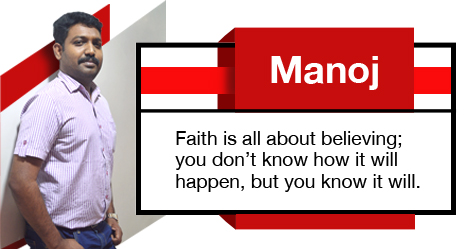 I joined Newton Consulting in the year 2009 when it just began its India operations. That was the time when digital media started to set its foot in the modern Indian parlance. And being one of the foremost members of the Newton family, it was my responsibility to see it through that transition phase which initially felt like a gigantic task. But, the able support of my bosses and my prior experience with brands like FCBUlka, O&M and Unit 83 Advertising Inc. gave me the courage and confidence to fight my early inhibitions at Newton Consulting.
Shifting from Kerala to New Delhi wasn't easy for me as it was a different environment altogether. It was a sheer challenging situation and I felt like I was surrounded by somber clouds of communication and cultural differences. But, my colleagues at Newton Consulting helped me in overcoming my initial hiccups. I sought help from wherever I can; in this regard, my boss, Mr. Gilroy, has been quite instrumental in motivating and guiding me through tough times and made me believe that "I Can Do it." Now, I am very much an integral part of the Newton family and proud to be at the center of it. The journey which started as a 'One-Man-Show' soon transitioned into a cohesive team of creative professionals. In my eventful journey of 8 years with Newton Consulting, I have seen people come and go; teams formed and re-formed but, one thing which remained persistent over the years is Newton's culture. And, it is this inclusive culture which forms the burgeoning base for the ingenious creative souls.
Every day at Newton is a new challenge, a new opportunity to learn, unlearn, relearn and grow. Our doors are always open for creative minds and inquisitive souls but always remember, "Weare like a clay and it's up to us to mold it into any form we desire!" Someone gave me this advice when I joined Newton and in all my earnest efforts, I hope to pass it on to future generations of Newtonites.